Rising Mobile Technology in 2011
With the New Year off and running, the outlook of the web market is beginning to shape itself. More and more companies are creating mobile web sites and the need for a mobile site is becoming required. This is due to the number of smartphones in the market, a number that will continue to rise this year and is projected to overtake feature phone sales by the third quarter of 2011. During the president's State of the Union address, president Obama spoke of the mobile market's growth and stated:
"This isn't about faster Internet or fewer dropped calls. It's about connecting every part of America to the digital age."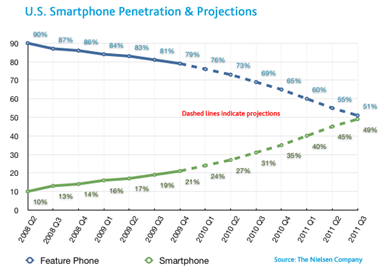 2011 will be a year of intensifying the mobile market by bringing faster, more reliable web connections and easier, more streamlined web development tools. Wireless companies are hard at work bringing the next generation of mobile web; such as, T-Moile's HSPA+ network, Sprint's WiMax network, MetroPCS's LTE network, and Verizon bringing 4G networks to 30 markets. With greater speeds, more people will utilize mobile websites which is why the company behind jQuery has developed a touch optimized web framework.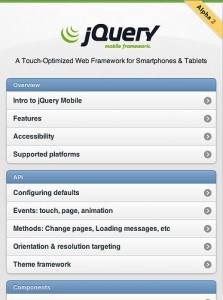 The framework jQuery Mobile has been in testing phases of its full release and is currently in version 1.0 Alpha 2 since November 2010. The final release is scheduled for early this year, as early as this month. This framework will make it easier to build a mobile website that utilizes the strengths of a touch screen interface. With the first month of the New Year about over, the digital age is beginning to grow and soon it will truly be a defining moment.