Improve your Ecommerce Presence
The world of Ecommerce is at a unique point in its young life.  With the increased focus on web standards and usability, web users are constantly on the lookout for something cutting edge and easy to use.  That being said, creating an online shopping presence is becoming an increasingly important avenue for selling your goods. However, without a specific, granular approach to your Ecommerce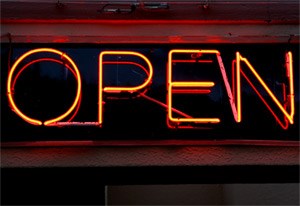 store, it's likely that it will produce less than desirable sales, be difficult to maintain and ultimately ineffective for users to perform even basic actions.
There are some fairly fool proof ways to combat common mistakes, however. By following some pretty simple rules within your Ecommerce store, we can improve sales, generate leads and referrals and subsequently increase conversions. Let's get started!
1. Remove clutter and distracting elements
The single biggest step I can recommend is removing "clutter" and unneeded elements from the design of the store. In doing so, you will free up sections of the page, which can help for many different reasons. First, it will reduce the amount of information the user takes in, drawing the focus to what is most important on the page, the product. Second, it frees up more real estate for product photos, descriptions and reviews; all of which will help a user make a more informed decision. Finally, by reducing clutter, you reduce the amount of elements that load when a page is requested by the user, thus decreasing their loading times and providing a more responsive feel to the site. Take a look at Lucky Brand Jeans' site: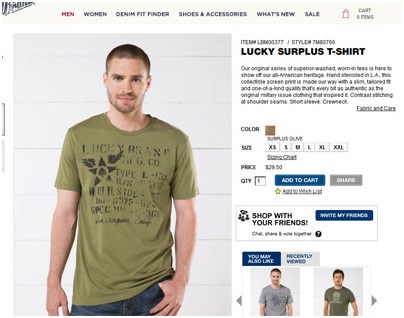 By incorporating a large product shot, the focus is drawn directly to the product. You will also notice a solid product description followed by different options you can select. Only when you get to the bottom of the page will you see recommended products. By doing this, they reduce clutter on the page in order to put the main focus on the product and the product only.
2. Make actions clearly visible
Along the same lines, making an Ecommerce site have clear and specific actions is essential to a successful store. Without them, a user might get lost on what to do next (ex: after adding a product to the cart, what do I do?). This becomes exponentially important during the checkout process, as users are very quick to cancel their entire transaction if they get even the slightest hint that they might be doing something wrong; especially if they believe it might compromise their sensitive information.
With that in mind, actions to make extremely clear might include: add to cart, remove from cart, update quantities, checkout, select variation/option and any forms they need to fill out. Below are some examples.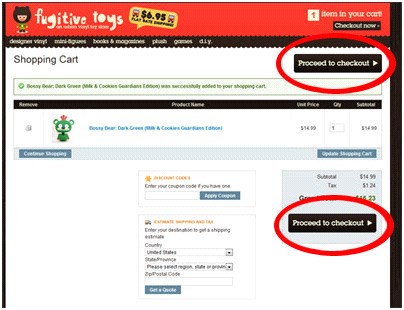 Fugitive Toys has large buttons that clearly pull you to the next action.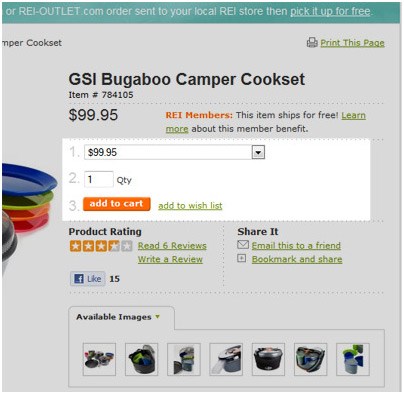 REI includes a 1. 2. 3. step process to add a product to the cart, which tells the user exactly what to do to add that product (and any variations) to the cart.
3. Make product shots visually appealing
If you have already removed distracting, unneeded elements from your store, chances are you have some free space (it might even look a bit empty). That's OK! You can fill up a bit of that space with product images that will highlight the craftsmanship & fine details of your products. A common feature found on Ecommerce sites is a product image gallery. This is quite a useful feature for users because they are able to see multiple images and it will help them to make a more informed decision about the product. Think of it this way: someone can describe something picturesque and beautiful, but if you've never seen it with your own eyes, you won't appreciate it fully; it's the same with your products online. You can have pages and pages detailing how your products are created, but if a user never sees a decent picture, their opinion will be skewed because ultimately, they want to make the final decision for themselves.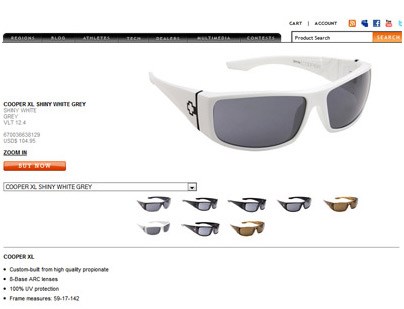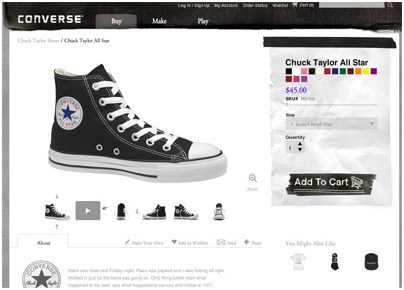 Spy Optics & Converse both use very large product shots to show detail; this is like being able to hold a product in a store.
4. Include value added or related products
Have you ever gone on a camping trip, assembled your tent, and realized you didn't have any stakes to hold it down? Smaller items like tent stakes can help to increase sales by providing a user something extra to buy at the last minute. If they see a product that they "might need" just before checking out, they may feel inclined to add it to their order (think of the checkout aisle at the grocery store). There are a couple of things to keep in mind, though; first, you have to make these additional products stand out from the rest of the content, to draw attention to them (but do it subtly!). Second, make sure that the product you are trying to cross-sell is pertinent to the product they just are about to buy. Last but not least, it must be extremely simple to add that product to the cart so the user can be on their way in a matter of seconds.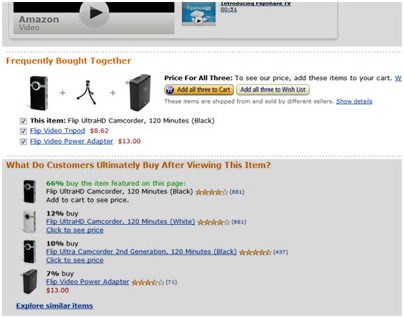 On most product pages at Amazon, you will find items that are "Frequently Bought Together". Items that correspond to the product being viewed are typically placed here.
5. Checkout process needs to be a breeze
Let's go to a real life example again. After picking out a few products, you head to the register and run into a long line. When you finally get to the clerk, they aren't helpful in ringing up your items and give you no indication of when to swipe your card, enter your PIN or sign, and don't bag your items up for you. Pretty inconvenient, right? Making the entire checkout process simple and easy is an integral part of increasing sales. This section could be an entire article by itself, so I won't elaborate too much, but:
Step by step completion can help the user see exactly where they are in the checkout process, giving them feedback and encouraging them to continue.
Error messages need to be clearly defined and helpful, so that the user can correct the problem quickly and be on their way.
Security is an increasing concern for everyone, so reassuring the user that their sensitive data is safe is imperative.
Confirmation of a successful transaction should be clearly stated so that the user understands everything that happened.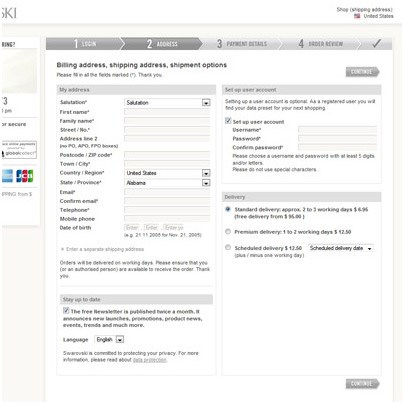 Swarovski Crystal has a great checkout process. They have steps to alert you exactly where you are in the checkout process, as well as forms that guide you in case of errors.
6. Go the extra mile to keep users informed
You're wrong if you think your job is done when the user completes their transaction! Keeping them informed about the status of their order will give them peace of mind that all is well. Emails that tell the user you received their order, their order was processed & shipped, and possibly a follow up email are all key to helping the user through the end. Providing things like contact numbers and email addresses are great because it puts the user in contact with you if they have any questions. Also, adding a tracking number to the email is a great feature that a user definitely appreciates, as they like to see exactly what is happening with their order.
Will these 6 tips guarantee success in every Ecommerce store? No. However, they are guidelines that can be formatted to fit your store so that in the end, your focus is on the most important aspect of your business – the consumer. Take a look at these tips again, and then browse through your Ecommerce site. What can be improved? What can be added or removed? Whether you need to customize your current solution or start from scratch, we have the tools and knowledge to help.