How Mobile Commerce Technology is Shaping B2B E-Commerce
Online shopping is now commonplace, and you'll find most people doing their research on any type of product online before buying. B2B e-commerce is a multibillion-dollar industry that continues to show significant growth with each passing year. With the growth of smartphones over the last decade, mobile has fueled the evolution of e-commerce. Mobile e-commerce has made it easier for the customers to check out thousands of options by just a tap or swap no matter where they are using their smartphones.
Mobile e-commerce has evolved over a decade and showed substantial importance in capturing a wide market in the last few years. A Recent study has shown that mobile shopping is growing 42% as compared to traditional desktop e-commerce; this percentage is expected to become even larger in coming years.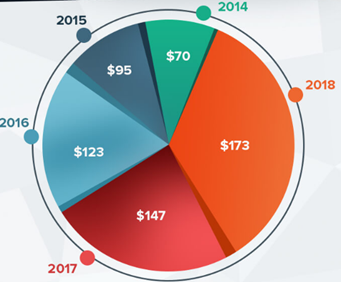 *Image source: Konstantinfo.com
It's safe to say that mobile e-commerce is the future of business as it's opening a whole new range of opportunities for both suppliers and users. Both Alibaba and Amazon are setting themselves as pioneers in B2B E-commerce by creating trends more like B2C. According to Frost & Sullivan, by 2020 the B2B e-commerce market will be twice as large as B2C - $6.7 trillion versus $3.2 trillion, mobile e-commerce is already playing a huge role in making this prediction come true in the near future. Here are the ways mobile e-commerce technology is shifting the B2B e-commerce strategy to mobile:
Convenience & Ease 
Mobile e-commerce allows users to quickly complete a specific task; be it researching a product or buying a product from the supplier. Companies that have integrated mobile marketing into their overall strategy, and whose mobile websites have a clean interface for quick mobile navigation, prioritize research and discovery functions and use location services to promote partner distributors see 44% of their sales occurring through mobile devices.
Analytics
Thanks to big data (large amounts of data generated through various means), market predictions are no longer based on "intuitions." Through detailed analytics, factual data can be extracted from customer experiences, this will help in making informed decisions and making calculated moves in the B2B market.
Mobile commerce is boosting sales
For 21% of B2B brands, mobile is the primary revenue driver. Almost all B2B are now focusing on maintaining or increasing the amount they spend on mobile marketing. There is now a trend among business buyers across all industries to increasingly depend on mobile commerce to purchase their goods.
Global reach
It's often difficult for buyers and sellers to find each other due to their proximity in the physical world, but it has become easier for them with the inception of the online store. Customers can search for their desired products anywhere in the world with many sellers offering global shipping.
Seamless Integration
Cell phones have become part of our lifestyle in a way that desktops never could. Smartphones have become so ubiquitous that we rely on them for everything, be it connecting with friends and family, consuming entertainment, or shopping. Thanks to Apple Pay, Google Wallet, and other mobile-integrated payment systems, it is now easier than ever to make purchases from our mobile phones.
In a nutshell
Mobile capability is a B2B e-commerce must-have today. For B2B businesses, mobile not only simplifies research process and transaction, it also gives small or mid-size businesses all around the world the ability to replenish orders from their smartphones 24x7. Not only that, mobile ordering has also increased the value of face-to-face meetings as sales representatives can spend more time building relationships and improving sales strategies instead of the tedious process of manually entering orders.
If you'd like to discuss implementing a B2B solution for your business, please reach out to us. We'd love to talk with you about it!