Customer Retention in B2B E-Commerce
Understanding how to retain customers is important for online business
B2B sales are complex as compared to B2C sales. That's because often several people are involved in the sale, and for new relationships it involves the lengthy process of content marketing, lead generation, and lead nurturing. Depending upon the complexity of the product, it can at times take months to complete the sale. All this hard work is usually exclusive to new customers. For the old customers, it takes far less time to make the sale if the relationship is supported. Moreover, B2B companies, especially manufacturers, deal with niche market mostly. That means the number of customers are limited and the sales are often technical in these scenarios, hence it's vital for companies to consider its customer retention strategy.
According to the statistics:
A new customer costs 5 times more as compared to keeping an existing one in business with you (Source: Lee Resources 2010)
By just increasing the customer retention by 5 %, there are high chances for the profit to increase by 25% to 95% (Source: Bain & Co.)
80% of the company's future revenue will come from just 20% of the existing customers.(Source: Gartner)
The probability of selling a product to an existing customer is 60-70% whereas probability of selling to new customer is 5-20% (Source: Marketing Metrics)
Average value of lost customer is $243 globally (Source: KISSMetrics)
Barriers to retain Customer Loyalty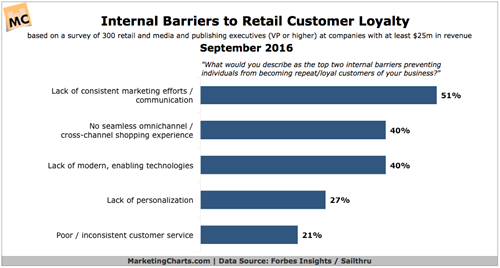 Image source:  Marketing charts
According to marketing charts survey, the biggest factor that results in losing a customer is the lack of communication. It's important to engage the customer with relevant communication about the particular domain or product updates through various channels such as email, content marketing, and social network pages. B2B companies that do not have multiple channels for customers to seek information also lose business- in fact, most often B2B e-commerce site is used more for customer retention purpose than to acquisition of new customers.  Hence it's important to keep the e-commerce site content rich and update it on regular basis.
Marketing to increase customer Retention
B2B customer retention is about continuing the customer relationship by ensuring to make the customer feel that customer service is still available to address their needs. There are several ways to invest in customer retention, such as:
Email Marketing
Email marketing is a great start to the keep the customer communication flowing. It is appreciated by customers when they are provided with information on relevant items, sales or any other special offers. Customizing the emails adds a personalized touch which is a great way to generate interest in your products or domain. By keeping in touch through email by providing updates or sales on products, customers can be reminded of the purchase they made and if they're satisfied with the previous purchase, then they are most likely to order again.
Content Marketing
Content marketing is equally important to retain customer base as it generates leads and nurtures it. It's important to create and circulate interesting blogs, articles, webinars, and video content to keep customers engage. Content marketing is also a good way to establish your company as the thought leader in the market and the expertise reinforces the trust the customers have in your company.
Empathy with the Customers
The best way to build customer loyalty is to provide exceptional customer service that shows that you care about your client. When a customer chose you as a company to do business with, it is most likely because they have selected you after their research on the product, checking reviews and comparing you with the competitors. They're most likely to retain when they're provided with up to the par customer service and making it easier to connect to your brand. This also can be accomplished via aggressive user experience testing and by working directly with the customer.
In conclusion, taking strategic steps in maintaining customers' loyalty have many benefits to offer and it is worth the investment. Companies who get their b2b e-commerce solution right can see the upward spiral of success and reap the rewards in the long term.
More...
In our next segment on customer retention, we will review specific features customers get the most value out of in B2B e-commerce.
References & Source Material: