Channel Conflict in B2B E-Commerce & How to Deal with It?
E-commerce is as old as the internet itself and with the rapid advancement in information technology; e-commerce is fast gaining importance in the retail world as well. It is expected that share of B2B e-commerce sales to grow from 9.9 percent in 2016 to 12.1 percent by 2020 and is forecasted to cross $1 trillion marks in near future.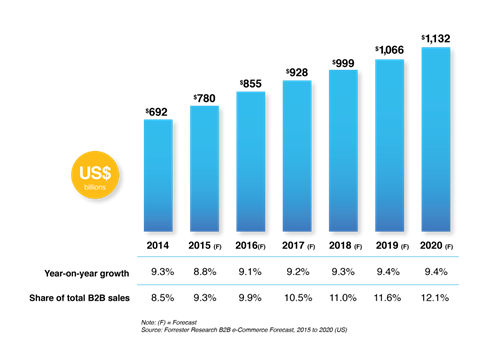 Image source:  valtech
Understanding why Channel Conflict occurs in B2B E-Commerce
Even with the growing trend for online commerce, B2B e-commerce is still riddled with hurdles such as lack of expertise or complex business process. Yet the major drawback is the channel conflict in e-commerce. Channel conflict occurs when the manufacturer bypasses the distributor or retailer and sells their product directly to the consumer. Channel conflict may also occur within the sales department of retail or corporate as well. For example, a direct sales representative have to compete with the other sales channels such as mail campaign, telephone or online.
What can be done to deal with channel conflict?
It's highly beneficial for the B2B commerce to have both the physical and online presence to flourish their business. However, this requires proper business strategy, sharing ideas and technology with channel partners and time for the long term success. The following practices might help the B2B e-commerce to mitigate the risk of both in-house and external channel conflict.
Dealing with in-house channel conflict
It's important to sync B2B sales channels as that mean more customers engagement hence more sales. Manufacturers and distributors can implement this by leveraging their e-commerce platform to deliver a useful application to their sales teams. Following are the ways to empower the sales team in a B2B  e-commerce platform:
Train sales representative to use online store
Lack of expertise is the biggest problem for the sale rep to fully take advantage of an e-commerce website. It is important to teach sales rep on how to avail the instant access to specs, pricing, and availability, comparisons, and data sheet online. Instant access to information will help the sales rep to guide the potential customer better.
Addition of sales representative dashboard
Adding a sales rep dashboard on the e-commerce website is the key to analyzing performance indicator such as quota, sales by customer, sales by product, customer order history and order status etc.
Addition of configuration, price and quote capabilities
The addition of these features on e-commerce website will enable sales rep to make instantly and smoothly general a proposal for the client from their smart devices.
Addition of workflow support for the quotation process
Adding a workflow support from a request to a quote to a click to approve and order will enable the customers to instantly act on the quote.
Provide instant chat capabilities
Providing sales rep with the instant chat function to talk to customers online will enable them to guide the customers towards a successful sale. Adding alerts or message whenever the customer has placed or not placed the order in a given period of time will also help sales rep to understand their customers better.
Dealing with external channel conflict
Given below the following ways we can deal with the external channel conflict in B2B e-commerce sales:
Let the dealer & distributors offer the best pricing
The best way to avoid channel conflict is to give the dealer or distributor the edge on price and undercutting on a price will position you as the direct competition for the dealer or the local store network.
Promotion of dealers & distributors on the e-commerce website
Offer your most trusted partners to promote their physical location on your e-commerce site. As many people still prefer to check the product in person before purchasing them even after their research online. This will help in promoting your dealers and distributors online and eventually result in increased sales. It can be a win-win situation for both manufacturers and distributors. 
Share platform with the dealers and distributors to gain maximum benefits
Shared platform means shared knowledge for both the manufacturers and distributors. By sharing data and collaborating with channel partners, it can aggregate datasets and provide new opportunities to arise. This can be beneficial for the entire sales ecosystem.
References taken from these links:
Image source: https://www.valtech.com/siteassets/blog-posts/will-emerging-b2b-growth-eclipse-that-of-b2c/graph2-01-trans.png
https://www.demacmedia.com/ecommerce/b2b-ecommerce-channel-conflict/
http://searchitchannel.techtarget.com/definition/channel-conflict
http://www.thewholesaler.com/content/e-commerce-imperative-and-rise-channel-conflict