B2B E-Commerce Statistics & Latest Trends 2017
A few years back, creating an e-commerce site was more or less an afterthought for wholesalers and distributors. Well, not anymore. As per the recent statistics and trends in the world of B2B e-commerce, B2B is now rapidly gaining importance in the retail sector for the massive benefits it offers such as e-commerce can streamline and automate the sales process, reduce cost and error margin, and free up the personnel to work on more strategic issues.
Here are the latest statistics and trends AVATAR sees on how B2B e-commerce is becoming larger than retail e-commerce.
Recent B2B Marketing statistics
According to the Forrester forecast report, US B2B e-commerce will grow from $825 billion in 2016 to $1.13 trillion in 2020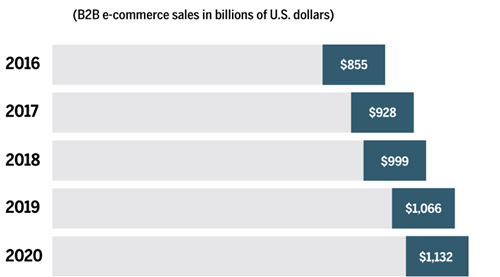 Image source: internetresailer.com
As per Forrester Research, Inc., 30 percent of today's B2B buyers complete at least half of their purchase online. It is the expected the percentage to double by 56% in 2017 as the B2B sellers will see a significant shift of offline business towards online business.
B2B e-commerce is rapidly gaining importance on global level and it is expected the B2B online sales to surge 6.7 $ trillion by 2020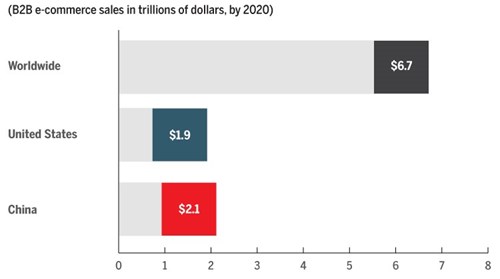 Image source: internetresailer.com
There is a massive downturn ahead in jobs for sales rep as more and more people prefer self-purchasing method on B2B e-commerce sites. It is expected that by 2020 in the US alone, there will be a loss of 1 million sales rep in the industry, a decrease by 22% between 2012 and 2020. However, sales rep that offers extra services for the complex products after purchase will fare comparatively better.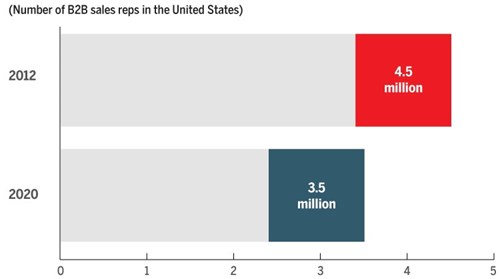 Image source: internetretailer.com
According to the Gartner, 74% of consumers rely on social networks to guide their purchases. Facebook, Pinterest, Twitter all have announced buttons that companies can use to post and sell their products directly through social networks.
It is expected that that cell phones will generate 15 percent of e-commerce sales by 2020 and tablets will generate 33 percent.
83% of buyers prefer using supplier's website to research products. Whereas Google come to close second by 77 % while 34% cited e-marketplace sites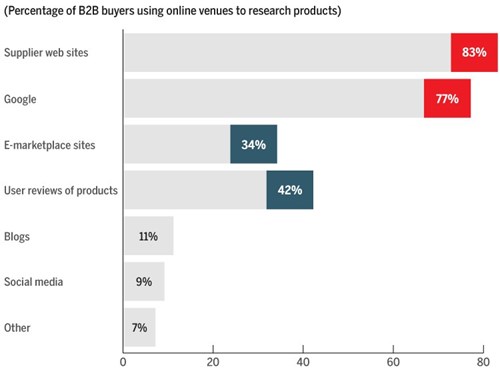 Image source: internetresailer.com
B2B Trends in 2017
These are the emerging trends to watch out for in 2017:
Fast implementation & integration
Previously it used to take months to implement B2B e-commerce platform but now it takes just a few weeks. This time frame includes state-of-the-art technology that let customers view their past purchases, access real- time inventory levels as well place and track orders.
Mobile commerce skyrockets
Wholesalers are now focusing on mobile and tablet as the critical channel because as per recent stats it shows that 80% of internet users have smart devices. This automatically means that consumers are using their cell phones and tablets to make purchases online. This trend is touted as the 'game changer' in the B2B e-commerce websites. 
Enhanced customer experience
There is a continued improvement seen in B2B e-commerce as users are now finding the sites as user-centric, easy to navigate, rich in content and high visuals. It is now expected by wholesalers to provide guidance on merchandising and detailed but easy to understand descriptions of products. It is now in demand that online search mechanism on the e-commerce website to be highly efficient to reduce the number of clicks and consumers can easily purchase the product they're looking for.
Fully configurableB2B e-commerce platform
B2B sales are complex as it involves various domains such as pricing schemes, volume discount, multiple languages, technical product specs, customized implementation, and configurations. To cater all the complexities, B2B firms are now switching from custom-made platforms towards more open source systems that provide with out of the box functionality and are easy to update as per the need.
Focus on global market
The best thing about e-commerce is that it provides an opportunity to reach out to millions of potential international buyers. By 2020, it is expected that the retail sales will be more than double that of consumer sales.
Direct and Marketplace
B2B e-commerce is now divided into two categories, marketplace and direct. Marketplace model involves the selling of products parallel to vendors such as Amazon Business, Tradescraper, and Kinnick. Whereas in the direct model, the company has its own B2B online store which gives access to its customers to create an account and make direct purchases. Out of these two models, marketplace model is fast becoming a popular trend as it is helping both the seller and buyer enter the e-commerce space.
Reference & Sources taken from these sites:
http://www.sap.com/docs/download/2015/06/d6f57d2d-397c-0010-82c7-eda71af511fa.pdf
https://www.internetretailer.com/trends/b2b-ecommerce/massive-downturn-ahead-jobs-b2b-sales-reps/
http://www.gartner.com/newsroom/id/1409213
http://www.forbes.com/sites/louiscolumbus/2016/09/12/predicting-the-future-of-b2b-e-commerce/#4a897505bd32
http://www.huffingtonpost.com/amit-bhaiya/b2b-ecommerce-trends-for-_b_8612864.html
https://www.pepperi.com/10-trends-in-b2b-e-commerce-for-2017/